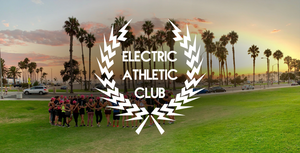 Introducing Electric Athletic Club
When we started Electric Flight Crew in 2014, we set out to create a place for people to come together around their shared passions for fitness and community. We began as a group of three longtime friends meeting in a parking lot and running the beach path in Santa Monica, and in the seven years since then, we've grown our Crew to nine cities spanning coast to coast. And, as we've welcomed thought-leaders across fitness, health, media, music, entertainment, and tech, we've broadened our workouts, added offshoots for other sports, and had more than a few legendary fiestas and Weekenders. In recognition of that evolution and the community that our members helped us build, today, Electric Flight Crew officially becomes Electric Athletic Club.
So, aside from a new name, what else can you expect from EAC?
Expanded Workouts: We'll continue to take a blended approach to fitness, focusing on a balance between running and cross-training. On top of our member-favorite road runs, expect to see more speed workouts, bike rides, yoga sessions, trail runs, circuit training, open water swims, and in-studio classes for all of our sites.
No Shower Happy Hour: Isn't half the fun of fitness being able to enjoy a few well-deserved beverages afterwards? Whether we're on the road or trails, in the studio, or the water, we'll end the workout with NSHH to relax, recover, connect, and plan our next Weekender.
Membership Perks: EAC membership dues will remain the same and come with a number of benefits beyond our social and fitness programming, including special events, product & event discounts, and fitness product demos. If you're in one of our newer cities, look for more details on these perks soon!
EAC Half Marathon: On March 6, we'll be holding the first-ever Electric Athletic Club Half-Marathon in several cities around the country. While there aren't many opportunities for official races this year, we can still further the mission of EAC – to bring together good people that love to challenge themselves and encourage each other. Keep following us on Instagram at @electricathleticclub for more details.
New Gear: Head to our gear page to be the first to rep the new EAC logo, including our limited edition hat, The Rebrand.
With sites across LA, San Francisco, San Diego, Boston, Denver, New York, Chicago, and more to come, we couldn't be more excited to officially ring in the era of the Electric Athletic Club. This isn't your grandfather's athletic club and it won't take long to see what we're all about—motivated, active, innovative young professionals with a love for community and strong neon vibes.
Welcome to the Club,
Josh + Dan
EAC Co-Founders
---